Mark Hamill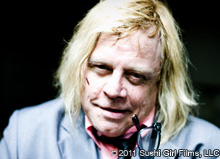 Mark Hamill became an international pop-culture icon as Luke Skywalker in George Lucas' original Star Wars trilogy.
His diverse career as a performer has encompassed television, movies, Broadway and more recently, he has branched out creatively as a writer, producer and director. After two years as a Theatre Arts major at Los Angeles City College, he began in television with guest appearances on numerous series and as a regular for nine months on the long-running soap opera, General Hospital. He starred in his own series, The Texas Wheelers, the critically acclaimed series produced by Mary Tyler Moore. His credits also include several TV movies: Circumstantial Evidence, Delancey Street, Sarah T, The City, John Carpenter's Body Bags and Eric. 
He made his Broadway debut in the title role of The Elephant Man. He then played Mozart in the 1st National Tour of Amadeus directed by Sir Peter Hall, later joining the Broadway production. He also originated roles in the Broadway productions of Six Dance Lessons in Six Weeks and The Nerd. His portrayal of tragic comedian Tony Hart in the Broadway musical-comedy Harrigan n' Hart earned him a Drama Desk nomination for Outstanding Performance in a Musical, a role he originated at the Goodspeed Opera. He also appeared as sleazy producer Gorden Miller in Alan Arkin's Off-Broadway revival of Room Service, a performance that was cited by Frank Rich in the New York Times as one of the " 10 Highlights of the Season".
Films: Star Wars, Samuel Fuller's The Big Red One, The Empire Strikes Back, Lindsay Anderson's Brittania Hospital, Hamilton, Return of the Jedi, Slipstream, Village of the Damned, Walking Across Egypt, Wing Commander, Jay and Silent Bob Strike Back & Comic Book: The Movie (which he directed, co-wrote and produced). This Miramax Production was nominated for five DVD Exclusive Awards including Best Actor and Best Director for Hamill, and winning three: Best Supporting Actor(s) for Jonathan Winters and Sid Caesar, as well as Best Feature Film. 
A prolific voice-over actor, he has performed hundreds of cartoons: Batman: The Animated Series (Annie Nomination Best Actor), The Adventures of Batman & Robin, Time Squad, The Simpsons, Ren & Stimpy, Robot Chicken, Samarai Jack, Superman, Justice League, Spiderman, Fantastic Four, The Hulk, Phantom 2040, Powerpuff Girls, The Flintstones, Scooby Doo, Jonny Quest, Fairly Odd Parents and in Disney's Little Mermaid, Super Robot Monkeys and Winnie the Pooh. Mark is currently working on Metalocalypse, Regular Show, and Disney's Motor City.