Andy Mackenzie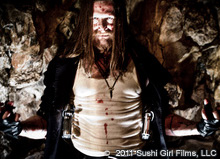 Over the last several years, Andy Mackenzie has worked constantly and extensively in both the film and television markets. 
Currently and simultaneously, Andy is filming a Reservoir Dogs-style feature Sushi Girl, starring in a lead role alongside Mark Hamill, Tony Todd, James Duval and Noah Hathaway, also with Danny Trejo and Jeff Fahey, and a post-civil war NBC pilot, Reconstruction, starring Martin Henderson, Rachelle Lefevre, Bill Sage and Robert Knepper. 
Recently, Andy completed a pilot presentation, Finding Hope, starring as Chris Mulkey's right hand man, also starring Molly Quinn, Richard Riehle, James Morrison, Kristen Dalton. Also recently, he starred as a horrific lead in an indie thriller Knifepoint. Andy opened up the film and portrayed one of Val Kilmer's henchmen in last summer's MacGruber. He was cast in HBO's Hell's Angels-style pilot 1%, in a recurring role had it gone to series. He also supported Clive Owen and Monica Bellucci in New Line Cinema's Shoot 'Em Up, and supported Norman Reedus and Christine Lakin in indie drama Red Canyon.
He starred as the offbeat romantic lead in the feature The Affair, produced by Cineville International (Hurly Burly, Swimming with Sharks, Gas Food Lodging). To one certain review, being touted as "stealing the film," his humble response was, "Seriously? Do they want it back?" In another feature, Ancient Warriors, starring Daniel Baldwin and Richard Lynch, Andy starred as an "intense" villain and was acclaimed as the "shining star of the film" with the "magnetic screen presence resembling that of Gary Oldman or Sean Penn." 
On the television side, he has guest starred in numerous high profile dramas such as Bones, True Blood, Burn Notice, CSI, The Mentalist, Brothers & Sisters, Eli Stone, Women's Murder Club, CSI: Miami, Shark, Medium, Monk, NYPD Blue, The Practice, The Shield, The O.C., Over There, Charmed, Freaks and Geeks, to name a few, as well as various sitcoms including Big Bang Theory, United States of Tara, My Name Is Earl, Two and a Half Men, Malcolm in the Middle, The King of Queens, and not to mention heavy arcs on Days of Our Lives and General Hospital. 
Andy has proven himself to be exceptionally talented in both the dramatic and comedic genres, excelling in his naturalistic acting style. With the rest of his time, Andy acts as the drummer in the band 33DEGREE.