David Reynolds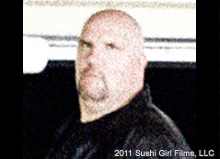 David Reynolds has had a very exciting career since moving to Los Angeles thirteen years ago. 
He made his big screen debut in Rob Zombie's controversial cult classic "House of 1,000 Corpses".
David has also appeared on "Malcolm in the Middle", "Crossing Jordan", and, most notably, White Power Bill in "Arrested Development". 
After appearing as Hansel in Wes Craven's "Hills Have Eyes II", his latest role is the enigmatic Henchman in "Sushi Girl", a thriller written by Destin Pfaff and Kern Saxton. "The three of us worked together on a film called "Death Valley", a sort of cross between Texas Chainsaw Massacre" and "Dracula". "Sushi Girl" is a great thriller so I'm hoping Destin and Kern will be put on the map so to speak because I know they have so many other ideas and are such a great team."
When he's not acting, David teaches for several local school systems. "I've recently started teaching acting as well and it's very rewarding. It's making me a better actor. Hopefully the kids are getting something out of it too!"