Cortney Palm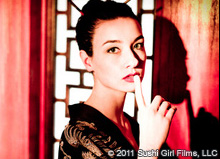 Cortney Nacole Palm has been a performer all her life. Born and raised in Colorado, her first successes began with gymnastics and beauty pageants then progressed on to a career in modeling and acting.
At 18 Cortney left her beloved family and friends and moved to California to pursue her passion for acting. She majored in Theatre Arts at California Lutheran University then moved rapidly into the theatre world performing roles in Learned Ladies and Macbeth. 
Cortney's desire was to appear in feature films. Being the perfect chameleon suited for a variety of roles, she wasted no time in Hollywood becoming a SAG member and accepting roles in successful short films such as "Fragile Hearts" which won Best Dramatic Short at the LA Life Film Festival. Cortney's first feature film lead role is in the action thriller, Sushi Girl. Looking forward to more feature film opportunities, Cortney's goal is to improve her acting skills and work with contemporary directors and filmmakers of all genres.