Danny Trejo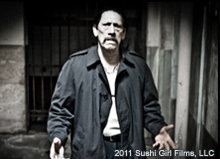 Danny Trejo has developed a prolific career in the movie business, yet his road to success has been hard earned and everything but typical. 
From imprisonment to helping young people battle drug addiction, and from acting to producing—the name, face, and achievements of Danny Trejo are well recognized in Hollywood.
In 1984, Trejo went to the set of the motion picture production Runaway Train to offer support to a man he'd been counseling. Upon his arrival on set, Trejo was offered a role in the film as a convict. Trejo has since gone on to star in dozens of films, including Desperado, the From Dusk 'Till Dawn film series, Heat starring Robert De Niro and Al Pacino, Con Air starring Nicolas Cage, Once Upon A Time In Mexico starring Johnny Depp, and the Spy Kids movie series.
Trejo's other credits include the independent films Sherry Baby starring Maggie Gyllenhaal, Delta Farce starring Larry the Cable Guy, and Rob Zombie's films The Devil's Rejects and Halloween.
His numerous television credits included a recurring voice role on the animated series King of the Hill, and appearances on Monk, Desperate Housewives, Stargate: Atlantis, Breaking Bad, and Sons of Anarchy.
In 2000, Trejo formed his production company, Starburst, where he produced the award-winning short An Eye For Talent followed by The Animal Factory directed by Steve Buscemi.
In Robert Rodriguez and Quentin Tarantino's Grindhouse, Trejo appeared in a trailer, which led to the spin-off feature film Machete (2010). He also played a key role in the box-office hit Predators.