James Duval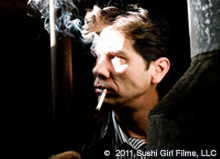 James Duval burst onto the indie film scene in 1993 playing a disillusioned teen in writer-director Gregg Araki's "Totally F***ed Up" and soon became the embodiment of Generation X alienation in Araki's follow-up films, "The Doom Generation" and "Nowhere." 
Duval's 19-year career has been filled with diverse and offbeat roles, making him a favorite of indie fans and a notable presence in a variety of films. Taking a leap into mainstream film, Duval was in the blockbuster "Independence Day". 
Duval would go on to be in "SLC Punk", "GO", and "Donnie Darko", which would all go on to be cult classics. Duval's first lead role in "The Doe Boy" won him the Best Actor Award at the American Indian Film Festival. He would go on to join Nicolas Cage, Angelina Jolie and Giovanni Ribisi in the crime-thriller "Gone in 60 Seconds" as a member of a gang of professional car thieves. 
The past several years have been very busy for James, as he has appeared in dozens of movies including "Kaboom", "Touchback", and "The Critic". James isn't only a brilliant actor but has credits for writing and producing several of his films. Recently, James Duval joined a stellar ensemble cast in the action/thriller "Sushi Girl".